SOLAS approved navigation equipment
We supply market-leading, SOLAS approved navigation systems within the following product segments:
• Voyage Data Recorders (VDR, S-VDR)
• Speed Logs and Echo Sounders
Digital solutions for supply vessels, workboats and smaller passenger vessels
Do you have the facts when you need them? Be prepared by making sure navigation instruments and other systems on board are being recorded and therefore possible to review as needed.
Our highly adaptable Voyage Data Recorders (VDR), designed to meet high demands in larger vessel segments, are also very suitable for supply vessels, tugboats, workboats, patrol boats, and smaller passenger vessels. Choose between the standard VDR and S-VDR models, or our Mini-VDR model. Together with our web-based Cloud applications, this gives you a modern and scalable tool for fleet overview and safety management. In case of incidents, it is easy to play back a sequence and draw conclusions on how to improve operation. The system also provides solid evidence in case of any disputes.
Record AIS, GPS, Radar, ECDIS, RPM, Pitch, Rudder, Thrusters, Azipods, Winch motor torque, Winch line tension, CCTV, VHF communication, Fire alarms, and more.
Transfer and play back data quickly in a few steps. Get notifications on trigger events via email or SMS text messages. View the fleet on a live map.
Thanks to our modular hardware and web- based services, we can easily adapt our solution to your needs.
Cost-saving log installation solutions for shipyards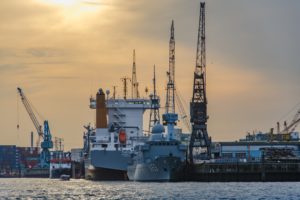 These are some of the benefits of our Speed Log and Echo Sounder systems with regards to installation at shipyards:
Only one (1) single hull penetration is needed thanks to our all-in-one transducer which measures STW, SOG, and even Depth simultaneously.
We can offer innovative Easy Tank solutions that eliminate the need for sea valves.
Small bottom parts reduce the cost for logistics and space.
More solutions
After more than 100 years in the maritime industry we know that customized solutions are sometimes key to success. Our products are prepared to allow for adaptations and new combinations of system modules in order to meet your specific requirements. We will be happy to discuss your challenges and to find a solution.