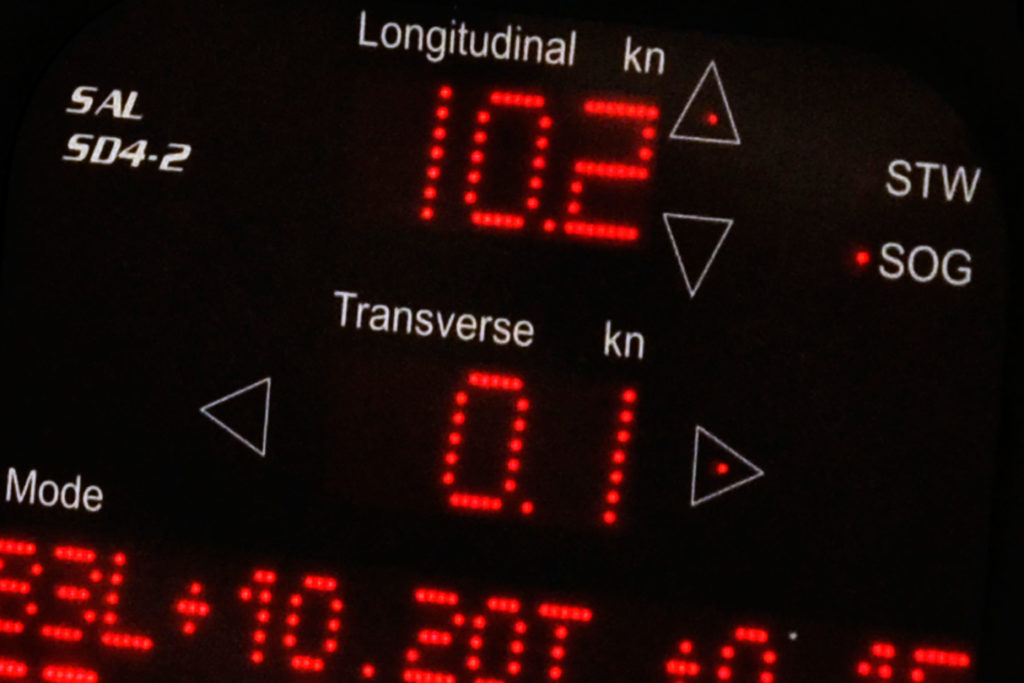 Designed to reduce installation time and cost
Our log systems are designed with a minimalistic approach, reducing the number of parts that have to be installed and reducing the number of necessary modifications to the vessels' hull.
The sophisticated all-in-one transducer measures all the necessary parameters (Speed Through Water, Speed Over Ground, Depth) through only one (1) hull penetration, which saves time both during installation and occasional maintenance.
For installations that require for example only Speed Through Water (STW), we can offer even smaller, cost-optimized versions as well. Our broad product range makes sure we can find the right setup to meet your demands.
One of our recent additions to the product range is Easy Tank, which is an approved solution that eliminates the need for a sea valve. Read more about Easy Tank further below.
Robust and accurate speed measurements
We are very proud of the measurement accuracy of our logs, which use high-frequency sound waves and Acoustic Correlation to calculate speed. This measurement technique is very robust and insensitive to interference, allowing for reliable integration with other systems on board that need accurate STW and SOG, like radar, auto-pilot, positioning systems and systems for fuel optimization.
The Acoustic Correlation technique has advantages compared to other solutions on the market. One of the most important advantages is that it is independent of water temperature and salinity. This means that our logs need less calibration and will measure correctly regardless of where in the world the vessels operate.
For any possible demand
We offer a range of combination log systems and pure speed log systems.
| Measurement capabilities | SAL R100 (R1a) | SAL T200 (T2+) |
| --- | --- | --- |
| Speed Through Water (STW) | STW | STW |
| Bottom Track / Speed Over Ground (SOG) | – | SOG |
| Echo Sounder / Depth (DPT) | – | DPT* |
*) SAL T200 is approved as a secondary source to an external echo sounder system.
Quality and tradition
The current design and construction of our logs is the result of decades of research and development, iterations and innovation. We know how important reliability and safety is for our customers, and therefore we control the design and production of all parts, most crucial being the bottom parts, transducers and circuit boards.
Easy Tank – making installation even easier
Easy Tank is an alternative to traditional tanks and the sea valve by allowing for a cost-efficient and equally safe installation of STW (Speed Through Water) transducers. The solution is considered a "closed-ended installation" and is approved by DNV.
A closed-ended installation does not require any extra safety precautions considering water integrity, such as a water tight compartment or cable piping up above sea level. It is simply approved completely water tight. The cable of the Easy Tank is also water tight, giving more options and flexibility during installation.
Replacing the transducer is simply done from the inside of the hull while a diver covers the hole from the outside.
This is just how easy it is to install Easy Tank:
Adapters for speed log retrofit
Our large selection of high-quality conversion adapters ensure easy and cost-efficient replacement of old speed log systems with new SAL Speed Logs. Practically any brand can be replaced, and there is no need for dry-docking or divers.
Please contact us to discuss possible conversion adapter solutions!